Siargao has been a hidden gem for many years where surfers flock from all over the world to catch some incredible waves.
It is now rapidly becoming one of the most popular islands in the Philippines with new facilities and infrastructure improvements, making it both accessible and an amazing destination for non-surfers. 
But what exactly makes Siargao an adventurer's dream? This comprehensive travel guide on Siargao Island for non-surfers is all you need to be convinced to put this island on the top of your bucket list of places you must visit!
Where is Siargao?
Siargao Island is in the Philippines, located 232km east of Cebu City and 800km southeast of Manila. It is part of the province of Surigao del Norte, situated at the northeastern tip of Mindanao.
The coastline is laced with coral reefs, white sandy beaches, and secluded coves – all waiting to be discovered. 
Surrounded by stunning smaller islands, landscapes to die for, and photographic opportunities that will make your friends green with envy, there is so much to discover on this beautiful island besides surfing.
Best Time to Visit
The best months to visit Siargao are actually the opposite of the best months to visit El Nido and Coron in the north. This can leave you with a slight dilemma if you plan on visiting both islands at the same time. 
March to September is the dry season with warm temperatures and little rainfall, being the ideal months to visit for non-surfers. Siargao holds the International Surfing Cup in September, so if you fancy watching some incredible surfing talent then this is a great time to go. 
October/early November is a safe bet if you want to do north and the south Philippines, just accept that you are visiting a lush green island that will have bursts of occasional rain every now and again!
Personally, I'd rather it rained a little when in Siargao than when in Coron (where there is little else to do).
Scuba diving is best done between April and September when there is less swell and better visibility. 
Why Visit Siargao?
To put it simply, this is one of the most remote islands you can visit that is just waiting to be explored and still holds its native cultural charm. And most importantly, you can do this without having to sacrifice those little things that make your stay more comfortable. 
If you want to visit some of the other beautiful and remote islands in the Philippines, you'll have to be happy sleeping in extreme heat without air-conditioning, dealing with rationed electricity, and severe lack (and diversity) of places to eat, along with generally not having an awful lot to do.
Some of the most beautiful islands can only offer basic wooden huts with outdoor toilet shacks, which as cute and romantic as they seem, do not make for a particularly pleasant stay!
The facilities, accommodation options, and huge range of things to do in Siargao are what make it stand out from the rest of the crowd.
Siargao is the perfect island to spend the most amount of your time on, build it in as your main island if planning to visit others. Equally, it could be the only island you want to visit as there is an incredible amount to see and do. 
Most people that booked it on a whim either wished they had stayed longer or canceled their onward travel as they couldn't bring themselves to leave!
23 Quick Reasons Why Siargao Should Be Your Next Destination
Easy to get to
The whole island is waiting to be explored
Not too crowded
Remote untouched feel
Perfect for getting around safely on a moped
Unspoiled white sandy beaches
Stunning excursions
Chilled out vibe
Warm sea temperature
Pretty palm trees everywhere
Peaceful forests
Coral reefs
Sand bars
Incredible massages at value prices
Huge selection of places to eat
Fantastic accommodation options
Enchanting lagoons
Adventurous caves
Incredible rock formations
Vast mangrove forests
Beautiful rice fields
No annoying beach vendors
No beach trash
No surprise then that it was voted the No.1 best island in the world by CN Traveler readers, overtaking Palawan which was in the No.1 spot for the previous 3 years.
READ: Bucket List – The Best Beaches In The World (That Few Tourists Actually Visit)
How To Get To Siargao
Since 2017 direct flights have opened up from Manila and Cebu, sparking fresh interest in this little beauty. It is extremely accessible and a perfect opportunity for non-surfers who would have perhaps looked to other islands previously.
By Air
Traveling to Siargao's small but efficient Sayak Airport (IAO) is by far the best option. Only domestic flights travel in so you'll need to catch your international flight to either Manila or Cebu. Cebu is ideal as it is only 45 minutes away or alternatively 1 hour 30 minutes from Manila.
The two most frequent and reasonably priced airlines to operate in Siargao are Philippine Airlines (recommended) and Cebu Pacific.
We had 8 flights booked in total for our Philippines holiday, only one of which was with Cebu Pacific (the rest with Philippine Airlines). We had one cancellation without explanation, I'll let you guess which airline that was.
Indirect flights can often be slightly cheaper, but because we are fussy feckers it's not even worth looking into. Time is money and every minute of a holiday is precious. 
Ferry 
For that same reason, there is little point in discussing the option of getting a ferry. But for those who are curious, the ferry from Manila requires 3 stopovers over 35 hours of travel and costs around $12 less than flying. Enough said.
Luggage Allowances
Being an over-packer, we take everything we need on holiday and use our full allowance on international flights which is normally 25kg. Beware that basic economy seats on Philippines domestic flights will usually only include a 10kg baggage allowance. 
TIP: You can book the Premium Economy seats on Philippines Airlines which includes a 25kg allowance plus a hot sandwich for around $28 extra (one way). If not, you can expect to pay nearly $5 per kg for any excess over 10kg.
Cebu Pacific does not offer Premium seats. Their GO Easy seats allow 20kg and it is best to pre-book any excess before you fly.
Why We Prefer Philippine Airlines
Operate the most amount of flights to Siargao
Offer Premium Economy seats which include a luggage allowance of 25kg
Rarely cancel their flights
Mostly depart on time
Friendly crew
Competitive Pricing
What You Should Know About Flying In The Philippines
Delays
Delays are incredibly common due to unpredictable weather conditions or poor organization by airlines. This has improved over the last few years as the Philippines begin working on its infrastructure to accommodate the large amounts of tourists traveling around the country. 
Do not expect any level of airport efficiency that you may have been accustomed to! Cebu in particular, although fairly new, has a terrible system that leaves you queuing for what seems like a lifetime to get through security. Arrive at least 3 hours before any international departures.
Transfers
When planning any connections make sure you leave yourself enough time between flights just in case there are any delays. If you have booked onto the last flight to Siargao and subsequently your flight into Cebu or Manila arrives an hour later than planned, this could mean spending an unwanted night in the city. 
Try to catch the early morning flight to reduce the chance of any afternoon delays/cancellations (near dark) as Sayak Airport currently does not have runway lights.
Sayak Airport
On your return to Sayak Airport, there is no need to arrive too early. If you are catching the first flight out then know that there is only one coffee shop that opens at 8 am. Feed yourself beforehand! It is very much a laid-back 'mañana mañana' vibe.
Returning Home
Beware of traveling out of Siargao on the same day as your international flight home. If the weather is not on your side then there's a good chance all flights may be canceled. 
TIP: Return a day earlier and book into a relaxing hotel near the airport for a stress-free experience. Shangri-La Mactan Resort and Spa is the best place for this, without a doubt! (And probably the most affordable one you'll ever stay in).
Entry and Exit Requirements
You can enter the Philippines without a visa for an initial period of 30 days. For stays of up to 59 days, you will need to apply for a tourist visa from the Philippines Embassy before you travel.
You will need proof of onward travel so keep an accessible copy of a return ticket handy. Your passport only needs to be valid for the duration of your stay. 
When you're leaving the country from Cebu Mactan Airport you will need to pay a departure tax of 850 PHP ($16pp). We ran into problems when trying to pay with a card (the machine wasn't working) and needed to leave the queue, find an ATM and join the line again!
Siargao Airport to General Luna
By Van
Duration: 45 minutes / Cost: 300 PHP ($6) per person
For a stress-free experience, you should contact your hotel before you arrive and request that they have a transfer waiting for you upon your arrival. This way you won't need to worry about whether your driver is familiar with the location of your accommodation, after all – new hotels are going up pretty fast. 
Be sure to state whether you would prefer this to be a private transfer or group transfer. If it is a group transfer then you may be waiting around for other incoming flights to fill up the seats. 
There will be plenty of vans waiting at the airport for arrivals, so if you didn't manage to arrange this prior to arriving then no need to fret. They all charge the same fixed price to General Luna. 
By Motorbike Taxi 
Duration: 45 minutes / Cost: PHP 500 ($10) for up to 2 people 
If you're a thrill-seeker with no luggage then this may be for you. The motorbike taxis are locally known as habal-habal and can fit two people without luggage or one person with a soft case. It can be fun but not recommended for the smoothest of rides.
By Tricycle
Duration: 1 hour / Cost: 500 PHP ($10) up to 4 people
Tuk-Tuk / Tricycle is not a recommended method for longer journeys as they can get pretty bumpy with luggage! If you've missed your van transfer or forgot to book one then this is the best option if it means not missing your flight.
They are readily available and can be hailed down at the time. If there are 4 of you with luggage then it would be best to get two separate tuk-tuks for comfort and speed.
Where to Stay on The Island
There are two main areas to comfortably stay on the island:
General Luna (and surrounding)
Pacifico Beach
However, the main reason you are visiting Siargao is to enjoy all that General Luna (south) has to offer.
This is the hub, where you will find most of the island's accommodation, bars, restaurants, beauty salons, shops, and tour operators, and is the most developed part of the island. Tourism Road is the place to experience Siargao at its best.
If you prefer a little peace and quiet, then you can stay just outside of General Luna and still have quick access to everything. Cloud 9 which is where the main surfing takes place, is quieter and more relaxed – if such a thing is possible on this island!
If you choose to stay in Pacifico (north) then traveling into General Luna regularly will become long, painful, and/or expensive. You will want to spend most of your time around General Luna in order to fully experience Siargao.
Pacifico, is however, perfect for surfers who want to catch waves all to themselves and are not too fussed about the availability of other facilities. It is also only 20 minutes away from Alegria Beach – the most beautiful and peaceful beach on the island. Tak Tak Falls and Magpupungko Rock Pool are easy to get to from here.
Getting Around The Island
Scooter
The best way to explore Siargao is by renting your own scooter. 
Prior to this trip, we had never thought about riding one, being a fairly risk-averse couple who always think about the worst happening! However, a combination of smooth tarmac and low numbers of cars on the roads coupled with some of the most picturesque scenery was far too tempting. 
If you've never given it a go then this is the perfect place to try! Hiring a decent scooter is around 350 PHP ($7) per day and there are plenty of options as soon as you walk along General Luna Road. 
No advanced booking is required and your hotel most likely has or knows somewhere to rent one. This will be the most cost-effective and independent way of getting around the island. 
If you plan on traveling from General Luna all the way up to Alegria Beach (the furthest northern tip), then be prepared for a sore bottom! It can take over 1 hour and 30 minutes to get there as the route is not direct.
Filling up the tank is easy and cheap, pull up at a shack and the rest will be done for you at around 45 PHP (75p) per liter.
Will They Require a Driving Licence?
Yes – a driving license is essential, some vendors will insist they keep hold of it until you return the scooter, just make sure you keep a copy (paper or on phone). Police presence is fairly rare in Siargao but we did see a couple of tourists being stopped and asked for details. And make sure you don't drink and drive!
Habal-Habal
Before we had the kahunas to rent a scooter we were hailing habal-habals everywhere. It costs around 80 PHP ($1.50) to do the short strip along Tourism Road. This is an extremely easy way to get around General Luna and they can be hailed from almost everywhere.
Hire a Habal-Habal with driver
If you don't fancy riding a moped up to Magpupungko or Pacifico, then you can hire a habal-habal driver for around 1200 PHP ($22) per day and take a leisurely drive up.
What Is The Accommodation Like?
Siargao offers a huge range of accommodation options. They are extremely affordable and booking yourself into a gorgeous villa is well within reach if you're treating yourself to a more luxurious stay.
One key factor which sets Siargao apart from many of the other islands in the Philippines is its newly developing infrastructure to support tourism.
New accommodation is being built at lightning speed which comes with luxuries such as air conditioning and backup generators, something which many people have to go without when traveling to other remote islands around the Philippines.
Most of the accommodation options are in or around General Luna where you can find 90% of the island's hostels, hotels, villas, Airbnb's and resorts.
One thing to note is that Siargao is not geared towards the 'book and stay' market where you spend one or two weeks in a resort without stepping foot out of it. The grounds are generally quite small and do not have everything you may need contained within the footprint.
The reason people go to Siargao is for adventure and most spend little time in their accommodation. That being said, everyone's preferences vary and we all have our little creature comforts!
When searching for the most comfortable accommodation your money can buy, here are some things to look out for:
Location: Easy access to Tourism Road where all the action takes place
Air Conditioning: It can get quite hot in Siargao. If you struggle to sleep without it then look for somewhere that offers this on an unrestricted basis.
Back-up Generator: Your air-con will not work if there's a power cut and no generator in place! Power cuts are fairly common and don't normally last very long, but if you are dependent on electricity at all times then you can check with the accommodation.
Hot Water: Not all places can offer hot water, even some of the luxurious properties that state they do can only deliver it warm. It's so hot in Siargao that this shouldn't ordinarily pose any problems but get in touch with them directly if you need to.
Mosquitoes: If this is an issue for you then choose accommodation that is not over or near any standing water. Check out their Tripadvisor Review page and type 'mosquitoes' into the search bar for your hotel choice. The great thing about staying in General Luna during surf season is that the light winds wreak havoc for mozzie landings!
Breakfast: If this is not offered by your hotel then be sure that it is located close to nearby restaurants.
For price comparisons, here are some of the best accommodation options within their respective ranges for September:
BASIC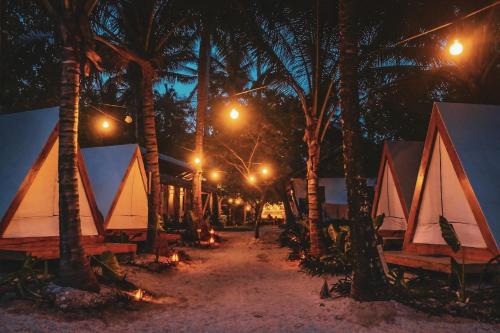 MID-RANGE
LUXURY
We spent four nights here and couldn't have asked for anywhere better to stay on the island. Check out our complete and honest review of Sandy Feet here!
32 Awesome Things To Do On Siargao Island for Non-Surfers
Island Hopping
Sugba Lagoon 
Visit Corregidor Island 
Sohoton Cave
Magpupungko Rock Pool
Taktak Falls
Burgos Coconut Road 
Maasin River 
Alegria Beach 
Spend the whole day on Daku Island
Pacifico Beach
Eat pizza at Kermit
Ride a Tuk-Tuk / Tricycle
Hire a sun lounger at one of the resorts
Hang out with the locals 
Discover a secret beach
Siargao Wake Park
Make new friends with the doggos 
Enjoy watching a game at Barrel Sports Bar
Tayangban Cave and Lagoon 
Tojoman Lagoon / Jellyfish Sanctuary
Shopping in General Luna 
Grab a Bowl at Shaka 
Rent a scooter and get lost 
Diving
Yoga Class
Enjoy the nightlife
Beach Party
Beach Clean-Up
Acoustic Night at Buddha Resort
Catch a beautiful sunset 
Cloud 9 Broadwalk and viewing deck
Bonus Point – Why not give surfing a go! Right by Cloud 9 is a beginner surf area called Jacking Horse. It costs around 600 PHP ($11) to rent a board with an instructor for 2 hours and guarantees you can treat yourself to the biggest lunch in town afterward!
Food and Dining Options
There is plenty to choose from in General Luna, whether you fancy the enticing roadside coconut bread or a slightly 'posher' meal with everything in between. There is nothing outrageously expensive to worry about in Siargao. 
I wouldn't expect any fine dining options on the island (just yet) and should imagine that once this does become available, the island would have officially lost its charm!
You also shouldn't expect to be blown away by every meal you have. The strange thing we encountered about the Philippines was that they do international cuisine remarkably better than their own dishes. 
The best (Filipino) meal we had was at a seafood grill on Daku Island and unfortunately, nothing else even came close!
However – the pizza, pasta, sushi, and other international food were spot on. Slight shame as we do prefer to experience local cuisine when away!
How Many Days Do I Need In Siargao?
Ah, the magic number! If most of the above ticks your boxes, I would aim to spend at least 6 nights in Siargao. Even then, my guess is you'll wish you had booked for longer. 
If you are planning to visit Coron or El Nido on this trip, then you may wish to skip places like Sugba Lagoon in Siargao. Coron will completely blow this out of the water and you may find it particularly underwhelming if visiting subsequently! 
I think you would be equally happy with a 2-week vacay here as a standalone destination. 
Are there ATM machines in General Luna?
In 2020, there are two ATM machines in General Luna, both of which are unreliable and can regularly go offline or run out of cash. They also charge a fee and may not work with certain foreign cards. Make sure you bring enough cash with you to the island by withdrawing at your departure airport (Cebu or Manila). 
How Much Money Do I Need To Take?
This comes down to how you like to spend your money. If you do a little preparation beforehand and plan out an itinerary you can easily work out how much money you will need to take. 
Most larger hotels will accept credit card payments or bank / PayPal transfers to cover the cost of accommodation, you can pay in advance to avoid any grief when you get there. 
It's a good idea to have enough cash to cover all meals and expenses for your stay, but if you do get stuck there are ATMs in Dapa if General Luna is down. Either way, it's best not to rely on them.
Daily Costs In Siargao
Here are some costs to give you an idea of how much you may need (based on the mid-high range, not including accommodation):
Breakfast with coffee 450 PHP ($8)
Lunch – burger, fries, soft drink 650 PHP ($12)
Dinner – seafood with wine and dessert 1000 PHP ($18)
We are foodies and love checking out all of the options, but on certain days we only spent $15 each on all of our meals. Our single most expensive was a sushi dinner where we practically tried the whole menu for $35 each.
Red Horse beer 65 PHP ($1)
Moped and Gas 600 PHP ($11)
Van Transfers to Airport (shared) 300 PHP ($5.50)
Single Tank Dive 3000 PHP ($55)
1 Hour Massage 600 PHP ($11)
Island Hopping Tour (without lunch) 400 PHP ($7) per person shared boat
Island Hopping Tour (without lunch) 1800 PHP ($32) per person private boat
Seafood lunch on Daku Island 400 PHP ($7) per person
Sugba Lagoon Tour 1600 PHP ($29) per person
Is Siargao Expensive?
Some would say it is more expensive than other parts of the Philippines, but it depends on what it is being compared to. As it stands, Siargao offers excellent value for money. 
We normally judge the price of a destination based on a bottle of local beer, a burger and fries meal, a 1-hour massage, and a single tank dive. These will normally provide a good indication of what to expect for other items.
The shopping was a little more expensive than you would have imagined but to be fair, the quality of clothing was pretty decent. 
My other half (who has never bought clothing on a small island before) spent far more time in the shops than I would have imagined! We treated ourselves to several 'Siargao' t-shirts which you see practically see all the cool people wearing!
Things You Should Know About Siargao
Tourism doubled in 2019 in Siargao. 
The island is developing rapidly, but you should still be prepared for inconveniences like dirt roads and power cuts.
WiFi is available and certainly better in higher-end resorts, however, do not expect any great deal of usage to take place. If you really can't go without then you'll either have to use roaming ($6 per day on average) or buy a local sim card. 
Basic Aqua Shoes are sensible on some of the rocky coral beaches and in particular at Magpupungko Rock Pool. The most likely injuries sustained are cuts to the feet, it's best to avoid any requirement for medical care!
There is no escaping from the 'used toilet paper in basket' scenario. This may seem strange at first but really shouldn't pose a problem once you get used to the concept. 
Siargao and the Philippines in general do not provide a French Style Service! Be prepared for a totally laid-back vibe. Occasionally, your drinks will be delivered 20 minutes after your main meal (which arrived before your starter!)
Coron vs Siargao
Despite becoming one of the most popular islands in the Philippines, Siargao isn't anywhere near as crowded as Coron. If you can, I would highly recommend visiting both as they offer completely different experiences.
Coron
When you visit Coron, you will likely stay in Coron Town Proper, which is where all of the hotels and restaurants are located. From here you will catch a boat from the port every day for all of your excursions to the beaches, islands, lagoons, and lakes. 
Coron Island is just a base to get to all the places worth seeing – nothing more, nothing less. 
Accommodation options close to the port are limited to 3 stars and below. As a result, facilities tend to be very basic and generally in need of modernization. 
However, new hotels and restaurants are popping up which will hopefully provide some diverse options when hunting for accommodation. 
Dive sites are far more interesting in Coron, where you can see WWII Japanese shipwrecks or experience the thermoclines in Barracuda Lake.
Four days on Coron should be plenty.
Without a doubt, this is the BEST PLACE TO STAY when in Coron!
Siargao
Siargao IS the attraction itself. You could happily spend your whole time on the island without stepping a foot off it. But options are available should you wish to venture out to see local beauty spots. 
The fact that getting around on a moped is so much fun (and relatively safe) allows you to go out and get lost, finding places that are not on the map or on any website for that matter. Siargao is the perfect definition of raw beauty waiting to be discovered if you want to find it that is.
Many people say that it is what Bali was 20 years ago, but I say this has far more to offer. 
One thing that really stood out for us was the commitment to the environment. Divers would go out of their way to remove plastic bags wedged in between corals and the locals would pick up litter as they go about their daily business.
You expect a certain level of plastic pollution to wash up on beaches around islands that suffer from typhoons.
What you do not expect is to see is absolutely no sight of a single plastic fork, bottle, or abandoned shoe sticking out of the sea bed when the tide is out. Pretty impressive.
Siargao Nightlife
There is something for everyone in Siargao which is why it attracts such a diverse range of tourists.
Party
If you want to party then there are plenty of options. They have a rota-type system where one venue will host the biggest party each night of the week. Just ask around to find out where it's happening or check out Siargao Experts Events List.
If you're not into the party scene then no worries, none of this is in-your-face type stuff and often you'll have to go out of your way to find out where it is taking place.
Live bands
If you prefer live music or bands just have a stroll down General Luna Road and keep an ear out from the side streets. There is some great talent waiting to be explored and some of our most memorable nights have been listening to our favorite song requests whilst singing along throughout the night.
Chilled out
There are so many options to choose from if you prefer something a little quieter. Just take a walk and pick something that takes your fancy. The people that are attracted to the island are a friendly bunch and if you're happy to mingle and chat then so are they. 
READ: How to do Affordable Luxury Travel – 11 Top Tips!
Are there Sharks in Siargao?
There aren't any sharks in Siargao, big or small. Years ago sharks were hunted by local fishermen for their highly-priced fins. Although this has now stopped, sharks no longer visit the area.
The most likely danger posed is stepping on sea urchins. Depending on the time of year these can be quite rare, but even when present you can spot them easily through the crystal clear water.
Is it Safe to Visit Siargao?
With terrorism being the biggest threat to tourist safety in Mindanao, Siargao is an exception. The island is at the far northeastern tip of the area and safely away from any issues the country is currently facing. 
Flying directly to the island also limits any potential issues that could be faced by taking the lengthy road or boat transfers. There have never been any terror-related activities linked to the island.
General safety precautions should be taken just as you would any other destination to prevent theft and pickpocketing, although at no point did we feel unsafe during our visit. 
Tourists can wander freely around the island and explore without any restrictions.
Medical Facilities In Siargao
Private Clinics
There are several private clinics in Siargao to treat minor injuries and illnesses and they provide excellent medical care. 
Main Hospital 
For major incidents, the main hospital on the island is in Dapa which is 30 minutes away from General Luna. They can handle most medical emergencies here.
Specialist Treatment
If you have a life-threatening condition or complex case such as a requirement for a decompression chamber, you would need to be transferred by boat to the mainland for specialist care. 
Do I Need Travel Insurance For Siargao?
Absolutely. This is not because Siargao poses any more risk than other destinations but because you want to limit the level of inconvenience or trauma should the unexpected happen. Medical treatment and emergency transportation can be extremely expensive in the Philippines.
Without a doubt, this is our favorite place to search for Travel Insurance. They have policies that can provide cover for COVID-19-related issues, just be sure to check out whether they have a 5-star rating.
COVID-19 insurance cover is absolutely essential if you're booking any travel over the next 12 months. Take a good look at the conditions to see what you're willing to accept. Making sure that you're covered for medical treatments should take priority over cover for holiday cancellations.
Wrapping Up Our Siargao Island Guide
The aim of this guide was to provide you with an all-round perspective of what Siargao Island has to offer, other than surfing and gorgeous sun-bleached locks. 
Now that you're fully informed, you can breathe a sigh of relief and start making plans to head over to this phenomenal paradise to see its raw, natural beauty!
Further Reads: